Legend of the Gemblade
shadowdale
Shadowdale
Shadowdale was a farming community in the Dalelands, in North Faerûn, and is the home of the archmage Elminster Aumar and was the home of two of the Seven, Storm Silverhand and Syluné. Through its history, Shadowdale has battled both Zhentarim and drow invasions. Due to the number of ruins in Shadowdale, it was a popular place for adventuring companies to settle.
Shadowdale Map
Click to enlarge.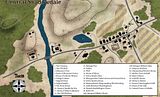 Notable events in campaign
Most notably, this is the town where Dax's body, and by extension the gemblade, was lost. Elminster Aumar and his assistant Lhaeo pledged their assistance to the party and provided valuable insight into their quest.